Login
RSS Feeds
Receive a regular RSS feed from our latest, most popular and recommended downloads
Get a regular RSS from our most latest downloads
Get a regular RSS from our most popular downloads
Get a regular RSS from our recommended downloads
Contributors
Sponsored Downloads

Detect and remove malware at speed with this fast and accurate security package

Optimise and protect PCs, Macs and Android devices

A comprehensive, reliable and accurate security suite
PC & Tech Authority Software News
Please wait while my feed loads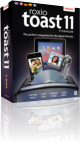 Spotlight: Free Full Software

Free Full Commercial Software
Ashampoo Burning Studio 2013 is a compact, simple, but surprisingly feature-packed disc burning suite.
The program makes it easy to create simple data discs and audio CDs, for instance: just drag and drop your files onto the list area and you'll be burning the finished disc in a couple of clicks.
That's just the start, though. Burning Studio 2013 can also create data discs with customised, interactive multi-page menus, perfect if you'd like a more professional way to share and present the disc contents.
A built-in backup tool allows you to create backups which may be encrypted, compressed, and span several CDs, DVDs and Blu-rays.
And there are modules to create VCD or SVCD video projects; burn video DVDs or Blu-ray discs from prepared folders; create, browse or burn disc images (ISO, CUE/ BIN and Ashdisc formats are supported); copy discs, erase them, design and print disc covers, labels and booklets, and more.
The focus throughout is on ease of use, though, and so Ashampoo Burning Studio 2013 remains very straightforward, whatever you're doing. Most disc projects are created via the same simple interface, and for the most part all you have to do is drag and drop the necessary files. But experts will find more advanced options are only a click away, and if you need to then you can set ISO and UDF version, enable Joliet, make a disc bootable and more.
Note the download here will take you to the Downloadcrew Software Store where you can download Burning Studio 2013.
[...]

Spotlight: Editor's Choice

Freeware
As you'll guess from the name, Freemake Video Converter is able to convert videos from one format to another - but that's just the start of its capabilities.
The program imports a lengthy list of video formats, and can convert them to AVI, WMV, MP4 and 3GP formats. If you just want the file to play on a particular device, though, you can simply select one of many built-in device profiles. Choose the "to MP4" conversion option, for instance, and you can choose from presets including "iPhone, iPod Touch", "iPhone 4, iPad", "iPod Classic, Nano", "iPod 5G", "PSP", "Smartphones" and "Digital media players". Pick the option that best suits your hardware and Freemake Video Converter will prepare the file for you right away.
There's also support for ripping DVDs (unprotected only), and if you drag in a number of videos then the program will burn them to a video DVD. There's not a great deal of control over the results - you can choose text, thumbnail or motion menus, for instance, but can't significantly customise them - however this does make the process very quick and easy.
If you'd prefer to share your clips with the world, though, it might be easier to put them on YouTube - and Freemake Video Converter can do that, too. Just import the relevant videos, click the To YouTube button, enter your account details and the clips will be published for you.
And other features allow you to join videos, extract the soundtrack from a movie, create photo slideshows, and more.
Version 4.1.9 (Changelog):
- Added drag-n-drop support
- Fixed the problem with Vimeo download
[...]
User Comments